Lostine's Philadelphia Gift Guide
There's probably at least one extra tricky friend or family member that stumps you every year. Luckily Lostine has you covered! We know of a few small businesses around town that make the perfect gifts for the fabled "person that has everything." From scented matches to handmade spirits, there's something for everyone here!
Lostine
We would be remiss if we didn't mention our own wonderful gifts! We created a page with our most gift-able items here. Along with our old favorites such as the Holly Jewelry Stand and candle holders, we have new Salt and Pepper Shakers, serving boards, handmade notebooks, and a gorgeous, leather-bound edition of The Joy of Cooking.
Skeem
Our very good friends and neighbors are pros in the things-that-smell-good department, so much so that Oprah included them on her annual list of favorite things. Skeem creates candles, matches, perfumes, and room sprays that diffuse fulsome yet not overpowering scents such as Sweet Balsam, Vintage Peony, and Fleur de Sel. Don't forget to check out their brand-new line of topical CBD products either!
United By Blue
It isn't very often that apparel pairs with activism, but Philly's own United by Blue does! If you visit the flagship store in Old City, you'll see a wide array of durable, sustainably made outdoor apparel and accessories. What might not be immediately apparent, however, is that United by Blue has pledged to clean one pound of trash from waterways for every product sold. That has led to the company cleaning a whopping 2,145,093 lbs. of trash so far (and counting). Give the gift of coziness and environmentalism in one fell swoop!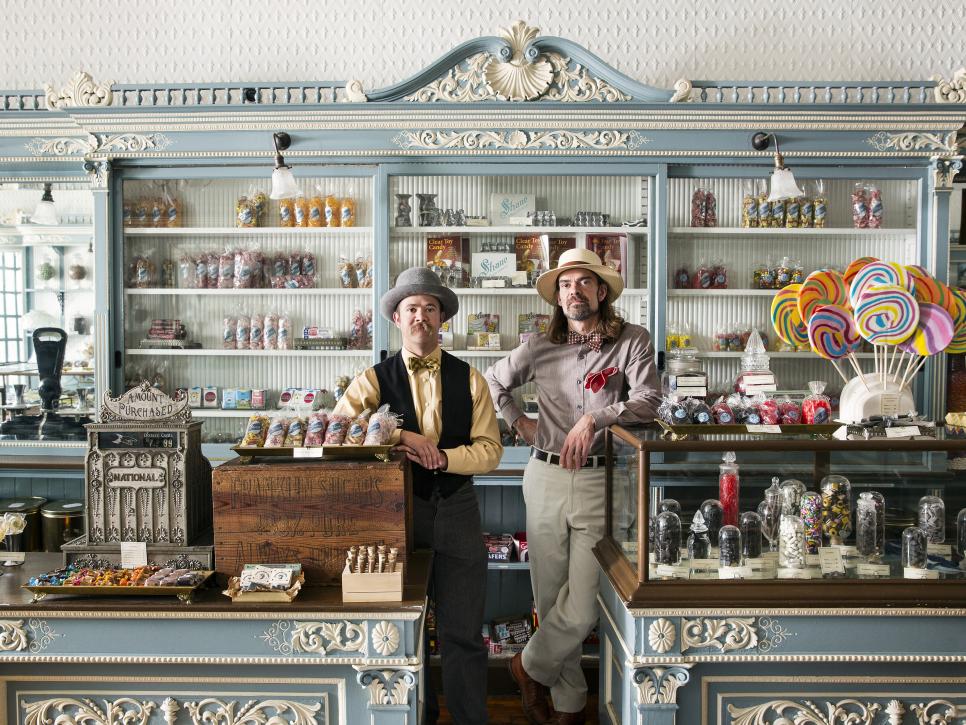 Shane Confectionery
Chocolate and candy are wonderful, but what about historical chocolate and candy? Opened in 1863, Shane Confectionery is the oldest confectionery in the United States. Brothers Eric and Ryan Berley, owners of the neighboring vintage ice cream shop Franklin Fountain, bought the candy shop after the original Shane family decided to call it quits. Seeking the preserve the shops storied history, the brothers decided to keep the original name and painstakingly restore the shop to its 19th century glory.
Art in the Age
Starting off as an arts collective in Old City, Art in the Age (borrowing its name from Walter Benjamin's 1935 essay, "Art in the Age of Mechanical Reproduction") has become home to one of the most unique lines of spirits in Philadelphia. Fascinated by the history of American craftsmanship, founder Steven Grasse decided to create spirits using ingredients and recipes found in Pennsylvania around the time of the American Revolution. In another nod to the Benjamin essay, none of the spirits sold are mechanically reproduced. Grain is hand-milled, berries are foraged for, and all botanicals are grown and harvested in house.
ReAnimator Coffee
Philadelphia's coffee roasting scene has been booming the last few years with brands like Ultimo and La Colombe gaining national recognition. When buying a gift for the true coffee lover, however, ReAnimator Coffee might be your best bet. Owners Mark Corpus and Mark Capriotti, two friends that met at Drexel University, have gone from making coffee from a personal roaster in a basement to running 3 cafes around Philadelphia. ReAnimator specializes in light roast, seasonally focused, single origin coffee that is fresh roasted daily. The result is a cuppa that simply does not taste like anything else out there.